Khayal ……an imagination

Presented by
Abhisek Lahiri (Sarod)
Somdatta Chatterjee (Vocal)
Partha Sarathi Mukherjee (Tabla)
The theme "KHAYAL" is innovation and reinvention. "Khayal" means "imagination" which is
a befitting name for this presentation, establishing the relationship of Vocal music and
instrumental Music – the Sarod. Indian classical music is as contemporary as it is
traditional. While retaining its fundamental essence, it has always evolved and grown with
time. This is one of the most striking examples of sustainability and stability in the face of
constant reinvention propelled by changing social contexts. Indian classical music has
always evolved around vocal music and all the other instruments have tried to imitate and
represent the music with technical virtuosity and subtlety of the specific instruments.
Same goes with vocal music they have also included certain amount of instrumental
techniques to enhance the presentation.
This is where I (ABHISEK LAHIRI) decided to explore and present the connection between
strings of "Sarod" and "Human Voice".
This unique presentation will be in three parts:-
First part will feature a vocal recital, where you will hear the nuances of the human voice
at its best.
Second part will be Sarod recital showcasing how the music evolves from human voice and
becomes an independent musical presentation on instrument.
Third part will be establishing the connection of Vocal music and the Sarod through
different traditional compositions from both the repertoire.
All the presentation will be accompanied by "Tabla" the most prominent percussion
instrument from Indian subcontinent.
Abhisek Lahiri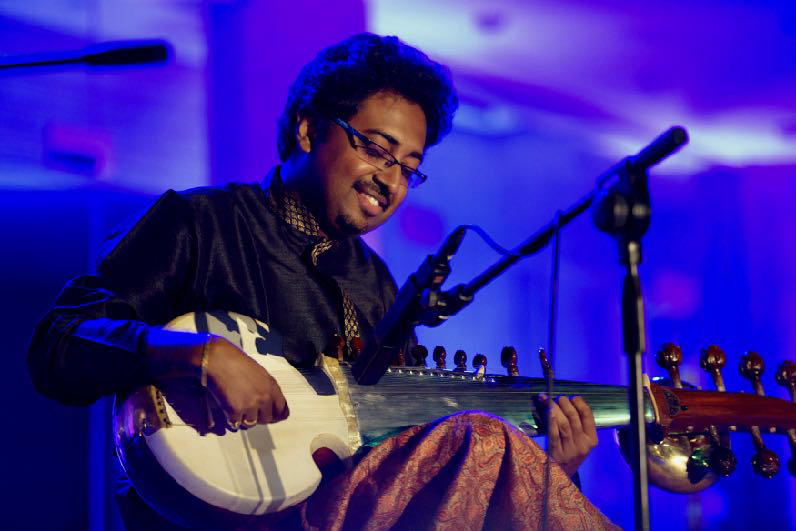 Notwithstanding the traditional essence which is one of the predominant
features of Indian Classical Music, Abhisek Lahiri, one of the youngest
President Award Winning "A" grade Sarod artist of Prasar Bharati and
Doordarshan has created his own unique style of playing the Sarod and
has achieved innumerable accolades across the globe. He has been
thoroughly trained under his eminent father and guru Pandit Alok Lahiri
primarily in Maihar Gharana with the confluence of other gharanas from a
very tender age in the Gurukul system.
Abhisek started performing in public at an early age of 11 years though
he got his first break in national level in 1997 when he was invited by
Pandit Hariprasad Chaurasia to play at "Saath Saath Festival" and that
year he also gave his debut performance abroad in Holland at the "World
Kinder Festival" where he was named as an 'Wonder Kid'. That was just
the commencement of an outstanding prodigy's lifelong commitment
towards music which later laid to extensive concerts through Europe,
U.K., U.S.A., Canada, Sri Lanka, Japan, Bangladesh apart from all over
India. He with his father Pandit Alok Lahiri possesses the dignity of
performing as the first Indians at the Europe Parliament in France,
Cannes World Music Festival and also in Canada Culture Days in Toronto.
Abhisek has created musical amalgamation and his groups like IONAH &
EMME in France and USA which represents world music and has got
worldwide recognition.
In the year 2017 Abhisek has been sent to Morocco and Cyprus as a
Cultural Delegate of India by the ICCR, Ministry of Culture, Govt of India.
Abhisek Lahiri has also performed in several world renowned venues
such as Darbar Festival- London, Theatre de La Ville- Paris, Musee
Guimet- Paris, Sacred Music Festival- Strasbourg, Tropen Theater-
Amsterdam, Bimhuis- Amsterdam, Musiquepublik- Brussels, Eye on India
Festival- Chicago, ICMC- Dallas (Texas), Chhandayan All night concert in
New York, Indian Embassy- Tokyo, Sangitabhimana Festival- Colombo,
Sangeet Natak Academy, Harivallabh Sangit Samaroh- Punjab, Dover
Lane Music conference- Kolkata, RIMPA Festival New Delhi and many
more.
Abhisek's music albums "Sparkling Sarod" & "Mood of Puriya Kalyan"
got nominations at GIMA (Global Indian Music Awards) in 2010 and 2014
along with the legends of our country such as Pt Hariprasad Chaurasia,
Pt Shivkumar Sharma, Ustad Zakir Hussain, Ustad Rashid Khan and many
more.


Somdatta Chatterjee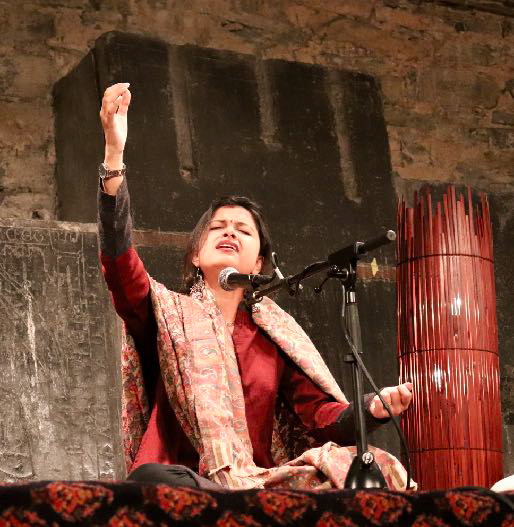 Born in a musical family in 1994, Somdatta Chatterjee has been primarily
trained under the guidance of her father Shri Subhasish Chatterjee, Uncle
Shri Snehasish Chatterjee (one of the senior disciple of Acharya Jayanta
Bose) and her grandmother Smt. Arati Chatterjee (disciple of the
exponent of Bishnupur Gharana Acharya Gopeshwar Bandopadhyay).
From a very tender age she has been brought up in a musical atmosphere
which helped her taking taalim when she went on to take further lessons
from the renowned artist and veteran guru of Agra Gharana, Vidushi
Subhra Guha.
Somdatta has stood first in the Thumri-Dadra and Bhajan in The
Doverlane Music Competition in 2014. She has got the National
Scholarship in Khayal from the Ministry of Culture, Government of India.
Recently she has been selected by the All India Radio audition board in
Thumri-Dadra-Tappa in the preliminary round. She has successfully
secured remarkable places in Khayal, Thumri and Ragpradhan in the
competition organised by West Bengal State Music Academy. Apart from
this Somdatta has successfully participated and gained place at various
All India based competitions like Murari Smriti Competition, Sangeet
Milon Music Competition etc. Her participation in the Naadbhed Music
Competition organized by Spicmacay was notable and it was broadcasted
in the Doordarshan. Recently in 2017 Somdatta has got the NCPA- Citi
Scholarship from Mumbai given by the National Centre for Performing
Arts, Mumbai and the Citi Bank in Khayal.
Somdatta has given her performance at the "Jalsaghar Festival"
organised by Eastern Zonal Cultural Centre (EZCC), at the monthly
recitals organized by the Doverlane Music Conference, at the Music Fare
(GaanMela) arranged by the Government of West Bengal. She has
performed at "Nadam", a reputed organization by Pandit Kumar Bose and
at "Sur Sangam"-another organization by Pandit Alok Lahiri & Abhisek
Lahiri. Except these, Somdatta has performed in various organizations
and has won the hearts of numerous audiences at this young age. Along
with this, Somdatta is currently pursuing her Master's degree in English
Literature and Language under the Rabindra Bharati University and she
already has done her BA(H) in the same from Calcutta University. She is
still learning under her Guru and her nuances of raagdaari and her
achievements denote that she will surely keep her commitment towards
her Guru and blossom into a successful vocalist of our country.
Somdatta is graded artist of All India Radio, Kolkata.
Partha Sarathi Mukherjee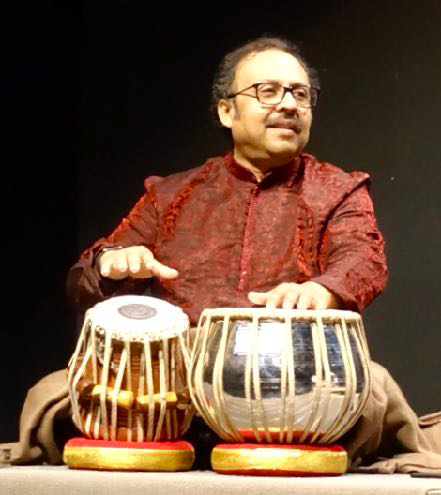 A divinely gifted tabla exponent and a versatile musician is
today the foremost disciple of the legendary tabla maestro
and doyen of Benaras Gharana Lt. Padmabhusan Pandit
Samta Prasadji, ably living up to his teacher's illustrious
name. He initially trained under the expert guidance of his
father Late Pandit Ashok Kumar Mukherjee who was
himself a disciple of Panditji. At present under the Guidance
of living legend doyen of Lucknow Gharana Pandit Swapan
Chaudhuri. He has toured extensively, enthralling
audiences with his mastery within India and abroad while
performing in major festivals. In association with
internationally renowned artists like Pandit Budhaditya
Mukherjee, Smt. Shubha Mudgal, Begum Parveen Sultana,
Shruti Sadolikar, Ustad Shahid Parvez, Ustad Shujaat Khan,
Pandit Rajan and Sajan Mishra, Smt. Laxmi Shankar, Smt.
Malini Rajurkar, Pt. Ronu Majumdar, Ustad Nishat Khan,
Ustad Imrat Khan, etc. Partha Sarathi's brilliance has earned
him many accolades. His prolific work includes playing
authentic traditional solo Tabla, performing with classical
Indian artists (dancers and musicians), Middle Eastern
musicians and composers of great repute and collaborating
with western Jazz musicians. He has worked with composer
Ross Daly (Greece) in several performances across Europe
and also in the opening ceremony of the Olympic Games in
Athens in August 2004. He has associated with Flamenco
Guitarist Eduardo Niebla (Spain), Double Bass player Achim
Tang (Austria), Jazz Giutarist Giorgio Serci (Sardinia, Italy),
Percussionist Ronny Barrac (Lebanon) & Composer Flautist
Deepak Ram (South Africa/USA) to name just a few. He has
collaborated with Choreographer/dancers in developing a
unique musical conversation with contemporary and
classical Kathak dance. He has composed several thematic
abstract rhythmic scores for choreographic productions and
the pieces entitled 'Illusion' and 'NOOR' has been received
to critical acclaim by the press, connoisseurs